On Saturday, May 26th, the twenty members of the Class of 2018 were joined by their friends, families, and honored guests to celebrate their graduation at Yap Catholic High School's 5th Commencement Exercises. Salutatorian Zoya-Marie Sigeyog gave the welcoming address urging her fellow graduates to follow the words of St. Ignatius as they go forth and set the world on fire. Her address was followed by the invocation given by Fr. Moses Tashibitit. The student address was then given by Valedictorian Hans Estrada Banua where he focused on selfless service and the school's motto: "Education in the service of God and others."
The following student awards were presented during the ceremony:
Literature Award: Hans Estrada Banua
Mathematics Award: Hans Estrada Banua
Science Award: Hans Estrada Banua
Social Studies Award: Hans Estrada Banua
English Language Arts Award: Hans Estrada Banua
Religion Award: Hans Estrada Banua
Bank of Guam IFIT Scholarships: Samantha Gilinug
Perfect Attendance Award: Zoya-Marie Sigeyog and Aaron Yow
Father Walter Ciszek, S.J. Award: Carlson Tomihara
Pope Francis Service Award: Vickay Kogol
Living the Mission Award: Hans Estrada Banua
The transition of leadership from the graduation Class of 2018 to the rising senior Class of 2019 was performed by Renee Rhonalynn Choorang and Jennaia Chonmon. The Commencement Address was given by Francis Itimai, Director of the Department of Youth and Civic Affairs for the State of Yap. Principal Michael Wiencek then gave his final address to the Class of 2018 before the graduates officially received their diplomas.
Following the conferral of diplomas, Fr. John Mulreany, S.J. blessed the graduates. The ceremony concluded with a final word from Fr. Jack Mattimore, S.J. where he thanked Fr. John Mulreany, S.J. for his seven years of service to the school serving as a co-founder, teacher, counselor, and assistant director along with serving the pastoral needs of the Catholic Church of Yap.
Congratulations to the following graduates of the Class of 2018:
Dorothy Baamer Hans Estrada Banua Stacee Bomtam Renee Choorang
Mellennia Falabtir Samantha Gilinug Jollynn Gilyoochen Giselle Giyetinag
Orpha Hapdei Bertha Hartholmar Vickay Kogol Myla Mailing
Rachel Mongon Quinntiara Paag Zoya-Marie Sigeyog Candice Tiningdow
Carlson Tomihara Mayah Torwan Duvall Yigin Aaron Yow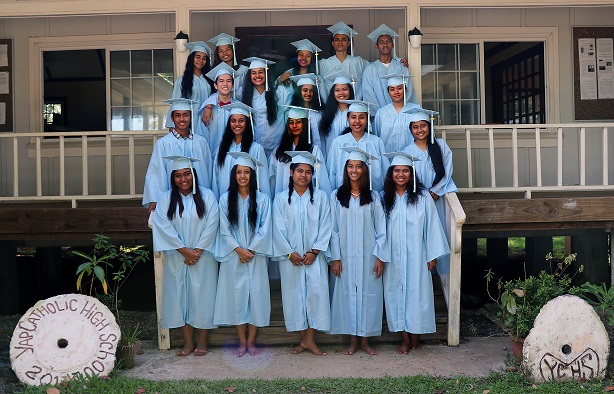 See our Facebook Page for more photos of the event.