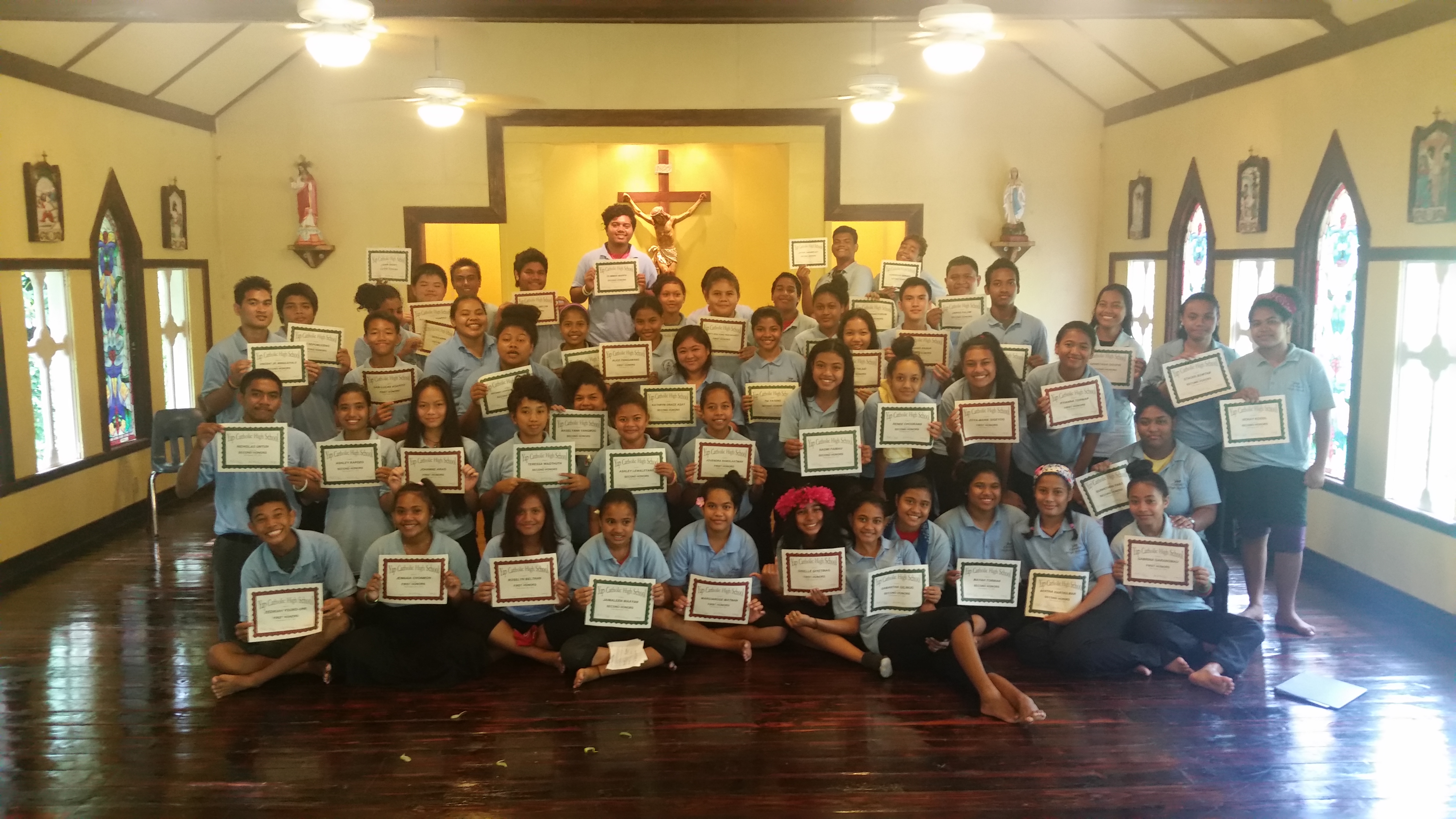 Yap Catholic High School completed its Third Quarter on March 9th .
During the Third Quarter 51 students received Perfect Attendance Honors for being at school and on time every single day. The overall attendance rate continued to be high at 99.2%.
In addition to Perfect Attendance Honors, 55 students earned Academic Honors.
The following 34 students earned Second Honors:
Freshmen:
Naomi Faimau, Jarvis Falow, BrieAnndah Foruw, Marrisa Gilyoochen, Genistasia Goofir, Gregory Taman, Megan Tinan, Teressa Wagthuth, Maselyann Yangmog, Tia Yateng
Sophomores:
Kathryn Grace Asay, Narcissus Genong, Bryanne Laamuut Fenenigog, Vincent Jr. Mwailiuyalo, Zoe Nepomuceno, Gloryanne Rungun, Kaivin Wariy, Jasmina Yug
Juniors:
Ashley Lewaletang, Glimmer Marpa, Ashley Rapgeg, Tristan Ruway, Jayvie Taruweliut, Nicholas Untun, Jaimaleen Waayan
Seniors:
Stacee Bomtam, Renee Choorang, Samantha Gilinug, Jollynn Gilyoochen, Bertha Hartholmar, Vickay Kogol, Quinntiara Paag, Mayah Torwan, Aaron Yow
The following 21 students earned First Honors:
Freshmen:
Trinity Edilyong Reichhardt, Alice Fidngamang, Gabrina Garangmau, Aileen Lubumow, Perfi Talaid, Eliana Tinngig, Ryianna Torwan
Sophomores:
Alexander Agapito, Dan Lucas Agapito, Jovendra Rabolaatman, Trevor Talimeluw, Zedikiah Young-Uhk
Juniors:
Johanne Arao, Roselyn Beltran, CeeCee Keppin, Marciarose Matnan, Julia Ranganbay
Seniors:
Hans Banua, Giselle Giyetinag, Zoya-Marie Sigeyog
The Senior Baccalaureate Mass will be held on Friday, May 25th . Graduation is scheduled for Saturday, May 26th .