Over 300 members of the community gathered at the YCHS campus on Saturday, May 27th to witness the graduation of the sixteen members of the Class of 2017 during the 4th Commencement Exercises. Salutatorian Francis Yarofalyango gave the welcoming address followed by the student address given by Valedictorian Natasha Loochaz in which she focused on the importance of learning from mistakes, never giving up, and being willing to seek help from others.
The following student awards were presented during the ceremony:
Rull Mayor's Award: Natasha Loochaz
Literature Award: Maia Lesarof
Mathematics Award: Natasha Loochaz
Science Award: Natasha Loochaz
Social Studies Award: Natasha Loochaz
English Language Arts Award: Natasha Loochaz
Religion Award: Natasha Loochaz
Bank of Guam IFIT Scholarships: Natasha Loochaz and Francis Yarofalyango
Perfect Attendance Award: Ted Chieg, Shawn Libyan, Rozeanne Ruema
Father Walter Ciszek, S.J. Award: Venessa Lauweiram
Pope Francis Service Award: Shawn Libyan
Living the Mission Award: Rozeanne Ruema
The transition of leadership from the graduation Class of 2017 to the rising senior class of 2018 was performed by Welna Laugeyaro and Zoya-Marie Sigeyog. The Commencement Address was given by Lourdes Robomon, Dean of COM-FSM Yap Campus and the FSM Fisheries and Maritime Institute. Principal Michael Wiencek then gave a final address to the Class of 2017 before the graduates officially received their diplomas.
Congratulations to the following graduates of the Class of 2017:
Sarah Alcantara Elizabeth Biyou
Bryan Bomtam Ted Chieg
John Steven Gilinug Jalani Gootinmutnguy
Welna Laugeyaro Venessa Lauweiram
Caslyn Legaleyetog Maia Lesarof
Shawn Libyan Natasha Loochaz
Blossom Moofal Rozeanne Ruema
Jonathan Tamngin Francis Yarofalyango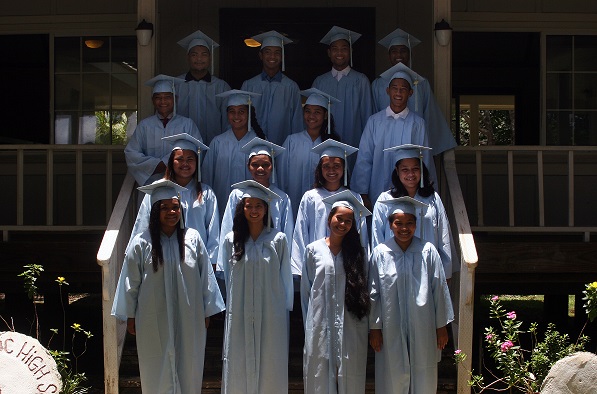 See our Facebook Page for more photos of the event.