Yap Catholic High School excitedly welcomes five new teachers and our new director to our team. The success of YCHS is a direct result of the generous offering of our teachers' time, passion, and talents. Please join us in welcoming the following teachers to our school, church, and island community:
Madeleine Ackels studied Elementary Education at Spring Hill College in Mobile, Alabama. This year, Ms. Ackels will be teaching Micronesian History I, Sophomore Literature, and Sacred Scripture. She will also be leading the gardening club as well as assisting the girls' volleyball team. Ms. Ackels is from Dallas, Texas, and enjoys saying things like, "y'all". In her free time, she enjoys riding her bike, hiking, and tasting new, local foods.
Nicholas Endo comes to Yap by way of New York, where he recently graduated from Fordham University at Lincoln Center. While at Fordham, he studied International Political Economy, Theology, and Spanish. Here at YCHS, Mr. Endo will be teaching Jesus of History, Christ of Faith to the sophomores, Morality to the juniors, and assisting with college counseling for the seniors. Additionally, he will be leading the choir and helping out with First Fridays. In his free time, Mr. Endo enjoys running, learning the ukulele, and making butter.
Michael Lamanna, S.J. is originally from Albany, NY, and joined the Society of Jesus (Jesuits) in 2011. He graduated from Syracuse University in 2009 with degrees in geography and economics, and after entering the Jesuits, he earned a Masters in Social Philosophy from Loyola University Chicago. At YCHS, Mr. Lamanna will be teaching math to juniors, world history to seniors, and religion to the first-year students. He has become very interested in planting vegetables at the Jesuit community, and plays piano. While he misses the variety of food in Chicago, he is greatly enjoying the fish and fruit on Yap.
Ms. Abby MacLean will be joining the YCHS faculty this new school year from Boston, Massachusetts. Ms. MacLean is a graduate of Boston College's Lynch School of Education with a degree in applied psychology and human development. Ms. MacLean will be teaching sophomore geometry, and English Language Arts for the juniors and seniors. Ms. MacLean is also excited to lead the drama/improv group as well as be the assistant coach for the boy's volleyball team. She is thrilled to be a member of the YCHS community as well as a member of the larger Yap community.
Fr. Jack Mattimore, S.J. is the new director of Yap Catholic High School, replacing Fr. Michael Corcoran, a friend of his since they were boys in grade school and high school. Fr. Mattimore is a graduate of Fordham University, Regis College, University of Toronto, and Columbia Teachers College. He has taught English and Religion and been an administrator in several high schools in the United States. At YCHS, he will be in charge of long-term planning, finances, fund-raising as well as performing other duties. The best part of his day is teaching English Language Arts to the sophomore class.
Sarah Penalosa is a Bay Area (California) native who attended Seattle University. She graduated with a degree in Humanities for Teaching this past year. Ms. Penalosa is excited to be teaching freshman Algebra, sophomore Micronesian History, and junior U.S. History. She will also be coordinating Yearbook and Journalism with Ms. Gail. A fun fact about her is that one of her favorite ice cream flavors is corn n' cheese!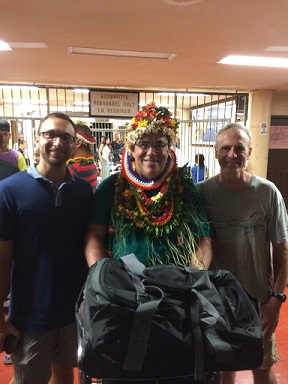 Mr. Michael Lamanna, S.J., Fr. Jack Mattimore, S.J., and Fr. John Mulreany, S.J. moments after Fr. Mattimore's arrival on Yap.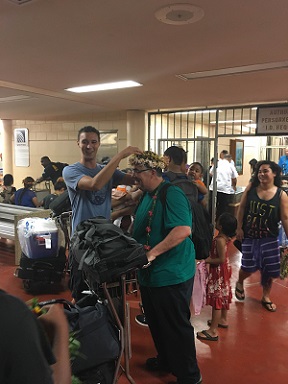 Principal, Mr. Michael Wiencek, welcomes new Director, Fr. Jack Mattimore, S.J.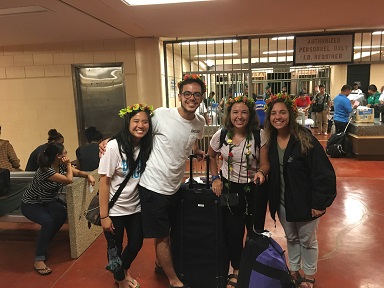 Our four new volunteer teachers at the airport
Ms. Sarah Penalosa, Mr. Nicholas Endo, Ms. Abby MacLean, and Ms. Madeleine Ackels